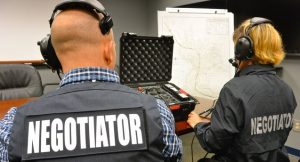 The NTOA is now offering another high-demand course online. Our Basic Crisis Negotiations course will be held virtually over 5 days.
Our first virtual course filled up in one day! So watch our website or sign up for our enewsletter for future scheduled courses.

This is a basic level course designed for law enforcement and corrections personnel, mental health professionals, supervisors team leaders and commanders who are assigned to, work with, or oversee the functions of a crisis/hostage negotiations team. This course is also appropriate for law enforcement and corrections personnel who aspire to join a crisis/hostage negotiations team.
The curriculum is designed to meet the standards set forth by the National Council of Negotiations Associations for a basic course of study for police crisis/hostage negotiators.
Although it is a "basic" course, it represents a robust and comprehensive view of the most likely negotiation problems and best techniques to resolve them peacefully. It is suitable for experienced negotiators desiring a refresher course.
This entire course will be conducted online via Zoom and will cover the same material as the residency version.
Click here for more information.
NOTE: On-site Basic Crisis Negotiations is still offered by the NTOA. Click here for locations and schedule.